The Ultimate rack system for your ultimate ride(s) !!
Our Patent Pending Duality through axle bike rack is a lockable, tool free system accommodating both 15mm, 20mm and new 9mm adapter (sold separately) axles. Designed from the ground up to be a convertible rack system, The "flip clip" converts axle diameters instantly. Main body parts are precision machined from a solid block of aluminum providing an incredibly stable mounting system even in the roughest conditions.
Price: $119.00
Duality Bike Rack
All prices do not include applicable taxes and shipping cost.
Please call for application assistance for you mounting options. There are a myriad of rack geometries on the market. We can assist with an elegant solution for your specific needs. Our universal angle bracket can be used on both roof rack and truck bed track applications for the cleanest most cost effective mounting solutions. Should you want to adapt one yourself, the Duality Rack incorporates multiple mounting holes to allow for most any configuration.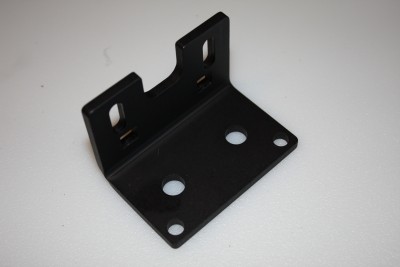 The Universal Angle Bracket mounts to existing OEM truck rail systems. The slotted adapter allows ~1″ of fore/aft adjustment to fine tune clearance for the given track system. Price includes 3/8″ mounting hardware and track nuts.
Price: $17.00
Angle Bracket-T
Download mounting detail